Setting your password policy
Setting your password policy in the admin portal will automatically update the password strength check throughout Canvas.
The Canvas template includes a built-in password strength check UI during the signup flow and anywhere the user is required to reset their password. By default, the minimum acceptable password strength is
medium
.
You can manage the requirements for your password policy directly from the Admin portal of your application. From the left menu click on Settings > Password policy.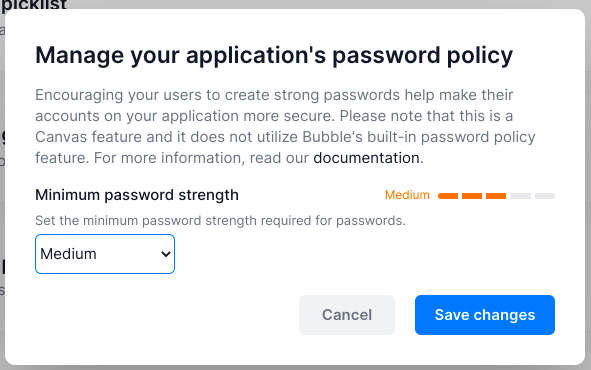 This Canvas feature uses Bubble's
password strength feature
and not Bubble's built-in password policy feature (App Bubble editor > Settings tab > General tab > Privacy & Security section).
The password strength is calculated using Bubble's algorithm, which broadly incorporates the number of characters, use of uppercase versus lowercase characters, and use of numbers versus special characters. In Canvas, we use this number to determine the password strength levels:
Password length is less than 8 characters

No special character, number, or uppercase letter

Password longer than or equal to 8 in length

Password includes at least one special character, number, or uppercase letter

Password longer than or equal to 8 in length

Password includes at least two: special character, number, or uppercase letter

Password longer than or equal to 8 in length

Includes a combination of special characters, numbers, and uppercase letters

*75=Google suggested passwords

Password longer than or equal to 8 in length

Includes a combination of numbers and uppercase letters

Includes multiple special characters
Here's the criteria Bubble uses to assess a password's strength:
35 for having a password longer than or equal to 8 in length

20 for having an uppercase letter

10 for a lowercase letter

25 for special characters/symbols (anything not alphanumberical)

-100 for common passwords